Congreso internacional - Criminalidad y desastres en el entorno natural y humano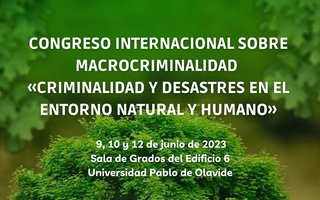 Data evento:
Section: Scientific events | Areas: Research
Congreso Internacional - Criminalidad y desastres en el entorno natural y humano
On 9, 10 and 12 June 2023, the Congreso Internacional "Criminalidad y desastres en el entorno natural y humano" will be held at the Universidad Pablo de Olavide (Seville).
The initiative is the result of the organisation and collaboration between Macrocrimes and the Grupo Interuniversitario e Interdisciplinario de Investigaciones sobre la Criminalidad (GI3CRIM) and of funding provided by the Universidad de Ferrara (Department of Law) and Pablo de Olavide University of Seville (Facultad de Derecho y el Area de Derecho Penal).
Applications to participate must be sent to criminalidadydesastres@upo.es by 14 May 2023.
For further information on the programme and conditions of participation, please download the poster.
Attachments
---
Macrocrimes fa parte dell'Università di Ferrara - Dipartimento di giurisprudenza
---