Olomuc International Law Lecture Series - The Aggression Against Ukraine and Austrian Neutrality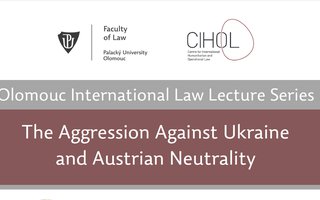 Data evento:
Section: Scientific events | Areas: Research
The Aggression Against Ukraine and Austrian Neutrality
We're sharing the invitation to the inaugural Olomouc International Law Lecture Series event by Prof. Dr Erika de Wet (University of Graz).
The lecture, titled 'The Aggression Against Ukraine and Austrian Neutrality', will examine the legal implications of Austria's neutral status in the wake of EU responses to Russia's aggression against Ukraine.
The lecture will take place in hybrd mode on 3 April 2023, 17:00 – 18:00 CET.
For further information and to join the event click here.
Attachments
Related pages
---
Macrocrimes fa parte dell'Università di Ferrara - Dipartimento di giurisprudenza
---