Advanced Training Course - Contemporary criminal justice and procedural guarantees of the person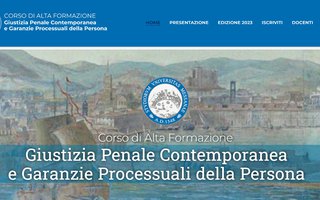 Data evento:
Section: Scientific events | Areas: Formazione continua
Advanced Training Course
Contemporary criminal justice and procedural guarantees of the person
From 27 November to 15 December 2023, at the Department of Law of the University of Messina, the Advanced Training Course Contemporary Criminal Justice and Procedural Guarantees of the Individual will be held, this year dedicated to New Models of Criminal Justice and the Challenges of Modernisation.
The course - structured in lectures, seminars and round tables - intends to analyse "the changes related to the emergence of alternative forms of criminal justice administration and the introduction of new procedural paths and innovative investigative techniques, dictated by the digital transition underway and the search for new balances between the need to tackle increasingly complex criminal phenomena and the need to ensure high standards of protection of individual rights in an era of growing insecurity and inequality".
Professor Daniele Negri - Full Professor of Criminal Procedure Law and member of the Executive Committee of Macrocrimes - will be among the Course Lecturers.
Further information is available here.
Related pages
---
Macrocrimes fa parte dell'Università di Ferrara - Dipartimento di giurisprudenza
---