The Prosecution of International Crimes Perpetrated in Brazil in the Framework of the Plan Condor: The Role of Italy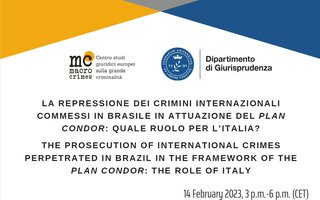 Data evento:
Section: Scientific events | Areas: Specialized courses
THE PROSECUTION OF INTERNATIONAL CRIMES PERPETRATED IN BRAZIL IN THE FRAMEWORK OF THE PLAN CONDOR: THE ROLE OF ITALY
14 February 2023, 3-6 p.m.
Presiede / Chair
Mirko Sossai, Roma Tre University
Rilievi introduttivi / Introductory remarks
Romina Canessa, Cyrus R. Vance Center for International Justice
Il Plan Condor - Il caso Rohrsetzer / Operation Condor - The Rohrsetzer case
Glenda Mezarobba, member of the advisory committee of the
Instituto Vladimir Herzog
L''"accertamento sostanziale" della colpevolezza nella sentenza di proscioglimento /
The evidence of the crime in a reasoned decision of acquittal
Francesco Morelli, University of Bergamo
Giustizia per i crimini internazionali: quando, dove, e perché? Riflessioni a margine
del caso Condor Brasile / Justice for international crimes: where, when, and why?
The legacy of the Italian Condor Brazil case
Alessandra Annoni, University of Ferrara
Webinar in Italian and English (with simultaneous translation).
For further info: macrocrimes@unife.it
Attachments
Related pages
---
Macrocrimes fa parte dell'Università di Ferrara - Dipartimento di giurisprudenza
---