The Department of Law and Macrocrimes involved in the Transnational Organised Crime Program 2022-23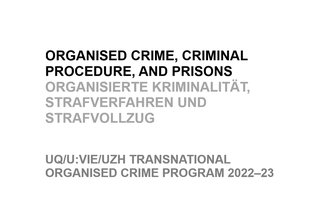 Data evento:
Section: Research | Areas: Scientific events
The Department of Law of the University of Ferrara and the Macrocrimes are involved in the Transnational Organised Crime Program 2022-23, dedicated this year to Organised crime, criminal procedure and prisons. The programme, initiated some time ago by the Universities of Queensland (Brisbane), Vienna and Zurich, involves lecturers and students from the Universities of Cologne and Ferrara as of this year.
The course started last autumn, with a series of organisational meetings and some webinars - including those of Dr. Fabio Nicolicchia on the European Public Prosecutor's Office last December, and of Prof. Stefania Carnevale on the Italian '41-bis' regime.
In the meantime, each of the students and PhD students admitted to the course has written a paper, which will be discussed with colleagues and lecturers between 13 and 17 February at the University of Queensland. The best papers will be selected for publication in a collected volume.
For the Department of Law, two PhD students from the Doctoral School in European Union and National Law are participating, both members of Macrocrimes: Dr. Gianmarco Bondi, with a paper on the Italian '41-bis' hard prison regime, and Dr. Marilù Porchia, who is discussing the role of joint investigation teams in the fight against transnational organised crime and their impact on the protection of human rights.
Dr Gianmarco Bondi and Marilù Porchia are currently in Brisbane, at the University of Queensland, accompanied by Prof. Serena Forlati.
The initiative was realised in the context of the 'Departments of Excellence 2018-2022' project, and may continue in the future thanks to the funding obtained for the five-year period 2023-27.
The Director of the Department, Prof. Serena Forlati, expresses her satisfaction, saying: "This is indeed a great opportunity for our two PhD students, and also for me an important opportunity to exchange views with colleagues who deal with the fight against organised crime from different perspectives"
Related pages
---
Macrocrimes fa parte dell'Università di Ferrara - Dipartimento di giurisprudenza
---