From East West Street to The Ratline, from Hans Frank to Lea Meriggi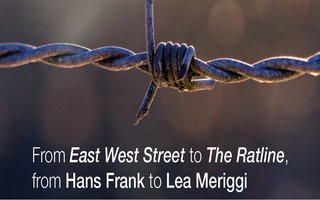 Data evento:
Section: Outreach
On January 21, 2021, ar 3.30 p.m., in connection with the Day of Remembrance, the MacroCrimes Center organizes the seminar "From East West Street to The Ratline, from Hans Frank to Lea Meriggi".
The event, introduced by Professor Daniele Negri (Director of the Department of Law) and coordinated by Professor Baldassare Pastore (Full Professor of Philosophy of Law at the Department of Law), will focus on the dialogue between professors Philippe Sands (University College London, Faculty of Laws) and Serena Forlati (Full Professor of International Law at the Department of Law).
The initiative will take place online and in English, with simultaneous translation into Italian. For more information and registration:
www.macrocrimes.eu
.
Video
Dates
Attachments
Related pages
---
Macrocrimes fa parte dell'Università di Ferrara - Dipartimento di giurisprudenza
---