Aperte le iscrizioni al Master MICAS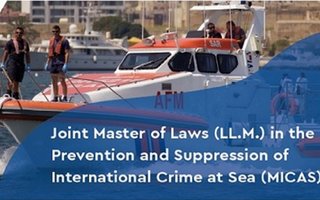 Data evento:
Section: Teaching | Areas: Teaching activities
Sono aperte le iscrizioni alla prima edizione del Master of Laws in the Prevention and Suppression of International Crime at Sea (MICAS), Master congiunto di primo livello attivato dal Dipartimento di Giurisprudenza dell'Università di Ferrara e dalla Facoltà di Giurisprudenza dell'Università di Malta.
Il Master, di durata annuale ed interamente in lingua inglese, è rivolto a professionisti e studenti di ogni provenienza, che intendano acquisire competenze specifiche in materia di prevenzione e repressione della criminalità internazionale in mare e di diritto internazionale in materia di criminalità marittima transnazionale e internazionale.
Nell'anno accademico 2020/2021 i corsi - a carattere sia teorico che pratico - si svolgeranno presso la sede della Facoltà di Giurisprudenza dell'Università di Malta, per poi spostarsi al Dipartimento di Giurisprudenza di Ferrara nell'anno accademico 2021/2022.
Le lezioni saranno tenute da accademici di entrambe le Università partner, docenti ospiti e ricercatori afferenti al Centro Macrocrimes. Tra gli ospiti, si alterneranno funzionari delle Nazioni Unite e dell'Unione europea, membri delle forze armate, operatori di organizzazioni non governative, avvocati e altri professionisti con un'elevata esperienza nel settore del contrasto al crimine internazionale in mare.
Secondo la Prof. Serena Forlati, direttrice del Centro Macrocrimes, "le competenze acquisite grazie al Master MICAS rappresenteranno un indubbio vantaggio in termini di possibilità di impiego e di avanzamento di carriera nelle forze armate e nelle organizzazioni internazionali che si occupano di prevenzione e repressione della criminalità marittima internazionale".
Attachments
Related pages
News and related events
---
Macrocrimes fa parte dell'Università di Ferrara - Dipartimento di giurisprudenza
---